What our guests think to our Sunday roasts…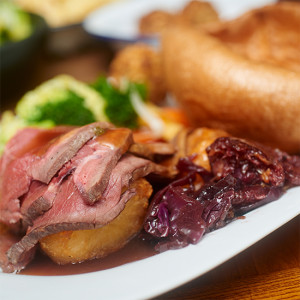 People have many different ideas as to what the perfect Sunday roast involves, but who wants to spend the day shopping, cooking and washing-up. Let us describe our version of a Sunday roast  – think top quality beef, lamb or pork from Aubrey Allen, butchers to HM The Queen, roast potatoes with a fluffy, white inside, a generous, well-risen Yorkshire pud, roast carrots, parsnips and tureens of buttered green veg – and unlimited supplies of hot gravy. You can eat your fill – but be warned, we will come round to tempt you with extra roasties and Yorkies. That's why we think a roast at Chequers tops the lot and our guests seem to think so too:
"I booked this pub over the phone for a party of seven to celebrate my birthday. The staff were ever so welcoming on a busy Sunday evening. They had placed a birthday card and some chocolates on the table, as they knew it was a birthday dinner (which was such a personal touch that was very much appreciated!). Our waitress made us feel very welcome and the service was very efficient. The food was fantastic (especially the plaice goujons and the pork roast!). I would recommend this to anyone who would like a good pub meal with a lovely country pub atmosphere."
"Although the restaurant was full, we managed to get a table in the bar. A fairly short but nicely varied menu included Sunday roasts. I went for the beef, my wife went for the lamb. Highly unusual for both of us to be asked how we wanted our meat (from rare to well done) – most restaurants just cook the joints slowly to one level of medium-well done. Lovely Yorkshire puddings, good gravy, crispy roast potatoes."
"Friendly staff, great meat and veg, plenty of gravy and huge Yorkshire puds. Always a winning combination. The gin and tonics are large enough time accommodate a small fish – no chance that they would get in my glass though."
"Fantastic Sunday roast. Great atmosphere, staff very friendly and helpful!"
 "Great staff, fabulous Sunday Roast, lovely atmosphere. All in all a really nice way to spend a cold Sunday afternoon!"
Have we convinced you? Now book your table and enjoy your roast, while we do the hard work.