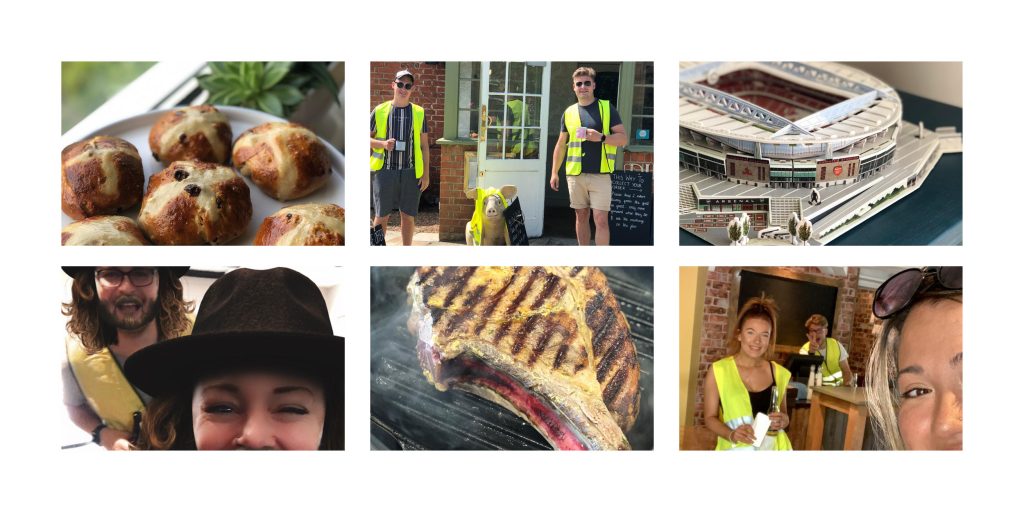 WHILST IN LOCKDOWN 
As we entered lockdown, our first concern was everyone's wellbeing and their ability to support families in such unprecedented times. Peach have been great in helping our team, with access to our hardship fund, zoom quizzes, online DJ sessions and masses of social contact, keeping us all in touch. Some of the pubs helped with Your Hub, a Social Enterprise to support the local community. From feeding homeless, to Youth support centres, NHS call centres, hospitals and  care homes. Read more of what the Peach team have been up to here.
The Chequers team certainly keep themselves busy during lockdown so I thought we'd share our lockdown stories.
What a three months it has been. Needless to say, we all miss you greatly and cannot wait to welcome you all back for some of the good stuff. Firstly a huge thank you for everyone who supported our work at the Pub Hub, raising money for the local community and frontline workers by serving takeaway, ready meals and essential shop items. We did this for 8 weeks, serving Fish & Chips, Beef Burgers, Chicken Burgers, Roast Dinners and a lot of alcohol.
We were blessed with donations from Hogs Back Brewery, Andwell Brewery, Greene King & Chase Distillery, and the pot of money raised will help feed local assisted living homes around the area.  I want to say a huge thank you to James, Craig, Pawel, David and Steven who helped in the kitchen and Tom, Jas, Claire, Sam, Emma R, Emma H, Charlotte and Amelia who helped me front of house. The team volunteered their time to help us with the hub and I am immensely proud to have such an amazing team. And when we weren't running the hub, we were sanding, painting, jet washing and gardening to keep the pub ticking over and getting us ready to open (early July, fingers crossed).
There's also been lots going on outside of The Hub too. Tracey has moved house and has completely redecorated, Charlotte and Claire started the "Couch to 5k" and have really hit the ground running (excuse the pun), and Charlotte has also been helping the local NHS by delivering prescriptions to the elderly. Tom H has joined forces with a supermarket to help keep the nation stocked, Emma has taken a keen interest in stones and gems and their healing properties and I've been able to spend some incredible family time which I have never been able to do to this extent. My daughter is now 7 months old (that flew by) and watching her grow alongside my 6 year old son (going on 16!!) with my Wife, has been some of the best months of my life. When we do open our doors again, we will at last be welcoming back Lizzie after her maternity leave, her daughter will be 1 at the end of July!
I just can't wait to have you all back at the pub with a nice cold one and some delicious food!
---

Tom Mead, General Manager
Hertfordshire bred, and dedicated Arsenal fan, Tom first got into catering due to his haircut! He'd been out to lunch with his Mum, who encouraged him to apply for a job as both he and the waiter shared on-trend spikes, so she thought he'd be a good fit. 
He quickly fell in love with the industry, and ditched any dreams of becoming a professional footballer in place of running busy pubs and bars. It was at Brunning and Price that his paths crossed with Ian, now one of our Poddies, who made a note to remember him as an up and coming super star, and we're pretty glad he did. On his days off, apart from marathon Lego building sessions, Tom will often be found in the kitchen cooking the classics or swerving off-piste to create something a little different for his family to enjoy. 
With a wealth of experience and an unashamed foodie, Tom has hospitality in his veins and he's excited to be running the beautiful Chequers. Pop in for a chat about the footie, the best places to eat and drink in Cornwall (another great love of his), or if nothing else, to see that beaming smile that will make the day feel just that little bit better.
---
Bevy Berenger, POD Director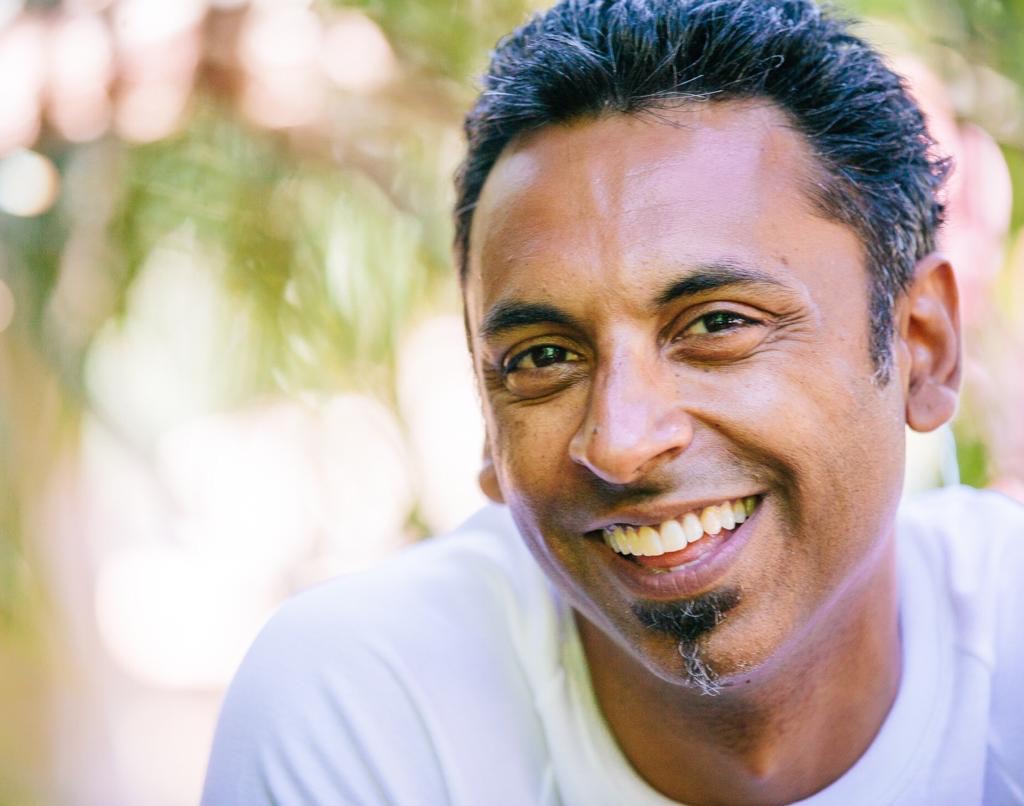 Reared in Australia, Bevy continues to be patriotic despite being on this side of the pond for the last 24 years and we quickly learned about his love for family the importance of his friendships and his healthy obsession with all things sporty and outdoor life.
Leaving Australia after several years as a bass player (complete with long hair) he decided to put music on hold and travel the world, falling into Hospitality in the early 90's in a cocktail bar in Manchester to supplement the plan. Following a couple of years of rock and roll catering style, he studied hospitality at Surrey Uni.
During a hugely successful career, many of the industry heavyweights such as M&B (All Bar One & PCDG) and Whitbread (hub by Premier Inn) have been lucky enough to recruit his expertise and exciting new concepts always sparked his interest. But we were pleased to find out that he'd always kept an eye on Peach and our independent feel, individuality and pace of growth won him over in the end.
Bevy brings that calm Aussie charm you can't help but relax into and he's made a huge impact on his pubs and the teams he looks after, which after all, is what we're all about. Join Bevy for a chat about surf, sun, sea!
---
Peach & our pub
Peach is a collection of really great pubs, mainly in market towns in the heart of England. We serve good quality, fresh, honest food in relaxed, welcoming environments. Always with a kind word and a sense of fun. We have always been passionate about giving back and as we've developed and grown over the years, our ability and motivation to make the world a little better, a little peachier, has grown with us. The Bigger Peach shows our efforts to improve communities, equality in the workplace and the future sustainability of our world. 
The Chequers became a Peach Pub in June 2013.  We take huge pride in serving the best ingredients we can find, from ethical producers, freshly prepared by our chefs. Whether you pop in for a pint, a business lunch or a special dinner, we promise you a friendly welcome. All day long.
Find us just in the middle of the pretty village of Eversley Cross, a long six from the second oldest cricket ground in the world. Set back from the main Reading Road (B3272) we are easy to spot. Just look for the ancient oak tree and our hanging sign on the Green. Our restaurant has ample car parking both in front of the pub and to the rear. Click here for more details.
We look forward to seeing you soon!
Tom & the team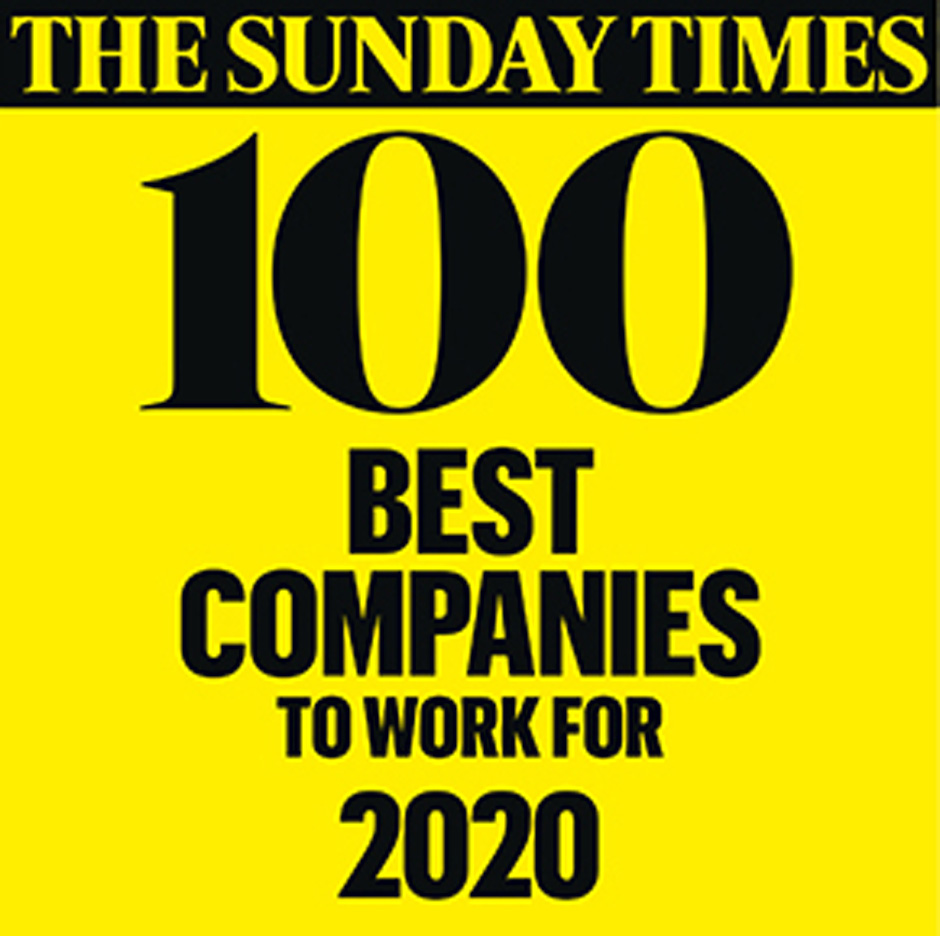 ---